Caroline Bergvall: Lead artist, text and voice | Ciaran Maher: datapiece
Sign: /Þ/
Transhistoric exploration of the  letter /Þ/ obsolete in the English alphabet. Starting-point to the wider research, writings and artworks of Drift.
"One of the most compelling performers and brilliantly inventive poets of our time, Caroline Bergvall is completely in control of her stage craft and a master of multiple languages – ancient and modern. This is a truly international show – taking the audience beyond borders of language and time."
Rachel Lichtenstein,
Artist,writer and curator of Shorelines
I was transported! Seemed she was collaborator to breeze, birds, passing boats. Made me relaxed yet hyper aware of surroundings."
The threshold spaces where Ragadawn is performed are not only points of conflict but of fluidity: where cultures blend, languages overlap, people trade and fall in love. Places where understanding and solidarity become possible
A polyphonic dawn chorus in the Essex edgelands
Nancy Groves,
The Guardian
A commission from the net arts journal Triple Canopy (NY, 2012). Both the text and an audio piece were composed exploring the false friends between the letter /p/ and the /thorn/ long obsolete in the English alphabet. This piece is archived online.
Opening section of my live performance Battles, Gru/Transtheatre, Geneva, 2014. With Ingar Zach, sound and live percussion.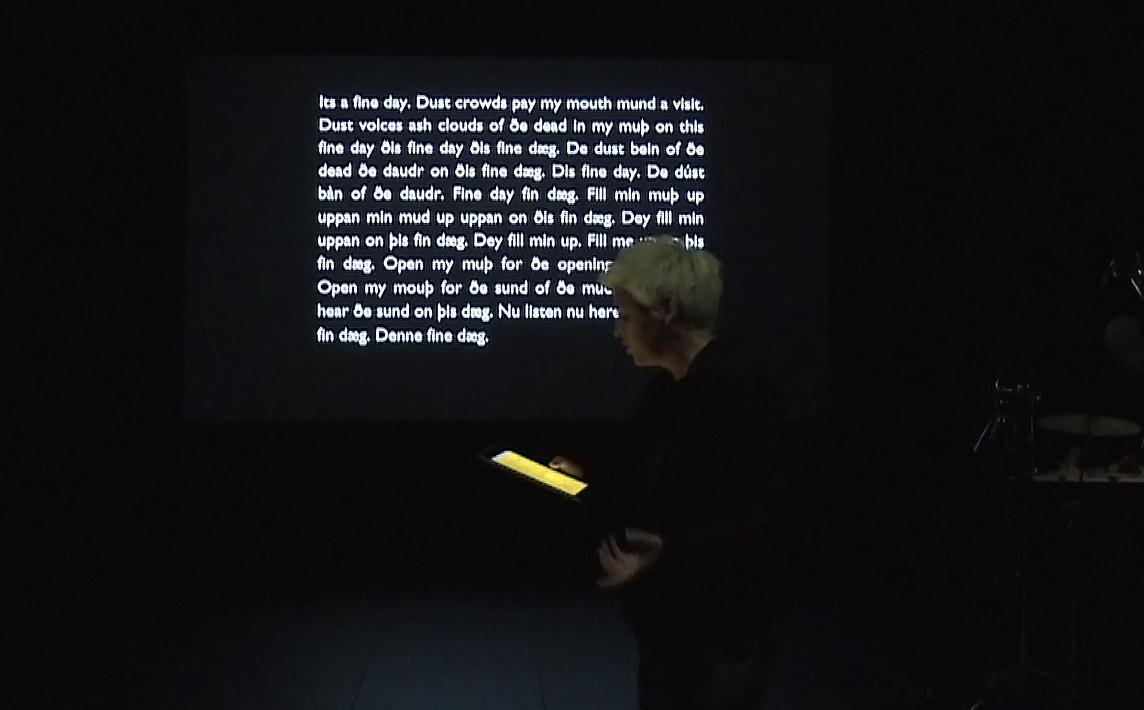 Harriet Staff : Noping, Feb 2013. The Poetry Foundation.
Sue Rainsford: Inscriptive Thorns: Textuality as Artwork, Writing as Visual Presence, 2013.
Essay on Bernadette Corporation, Mags Hartnett, Bryony Reid and "Noping".
Sophie Mayer: Who you gonna call ? – Sophie Mayer meets the Ghost Librarians, 15 Nov 2013. Electronic Voice Phenomena.
Quirky relevant feminist review-essay on voices in the archives and artists as ghost librarians as seen through film/performance/installation works and a short viewing-listen of "Noping".
Clara Sankey: Drift Review. in The improbable. Feb 2015.
This sense of directionlessness – the Vikings called it hafvilla: not knowing where one is on the sea – is the singular thread that ties the book together. Review featuring scans of some of the drawings.
Cherry Smyth: DRIFT review. Art Monthly, Oct 14
"Drift marks a significant ethical engagement for poetry in these isles". On the performance and the book.
David Kaufmann: Drift book review in Asymptote. Oct 2014
"Caroline Bergvall's latest book, Drift, is haunted by the loss of the thorn, the yogh, and Anglo-Saxon generally".
Tim Freeborn: Shake that Microtone: Caroline Bergvall's Drift. Nov'14. Rusty Toque.