Duration: 55 mins |  Caroline Bergvall: concept, texts, lead speaking voice  | Gavin Bryars: composer vocal sequences  | Peyee Chen: singer, soprano |  Rebecca Horrox (2019): programming, live musician  |  Jeph Vander (2019): sound engineer, site-specific set-ups.
Ragadawn is a sunrise vocal performance to be performed outdoors from the last hours of night until the very early morning. A multisensory composition for two voices, multiple recorded languages and electronic drones to accompany and celebrate the slow rising of day.
It draws on ancient and contemporary musical and literary sunrise traditions, while also addressing the linguistic territories of the UK and EU.
Language and languages, song and speech, sites and sounds, breath patterns, electronic frequencies and passing noise are all at work in this project. Ragadawn recalls the large rhythmic patterns that connect all beings both to nature and society, and the awakening of mind and body. It is a powerful and moving voicework performance which fights off contemporary isolation and reconnects audiences to time, place and each other.
I was transported! Seemed she was collaborator to breeze, birds, passing
boats. Made me relaxed yet hyper aware of surroundings."
In collaboration with Gaelic speakers on the island, Bergvall devised a powerful and entrancing piece, which took the audience on a sonic journey as the sun rose above the mountains. The dawn chorus' of birds and a passing rain shower added to a multifaceted work.
Skye Times
When Peyee Chen's glorious voice soared above the verbal confetti I felt the event reached its high spots. The whole experience was extraordinary, taking us out of our beds and our comfort zones into a fresh awareness of time, language and ourselves. The weather could have been worse; the cloudscapes were memorable as dawn broke and the breakfast was superb.
Morag Henriksen
Gaelic Poet & Singer, Language Station contributor
The threshold spaces where Ragadawn is performed are not only points
of conflict but of fluidity: where cultures blend, languages overlap, people trade and fall in love. Places where understanding and solidarity become possible
A polyphonic dawn chrous in the Essex edgelands. Caroline Bergvall's Raga Dawn is a mash-up of English, Punjabi and Romansh, poetry, music and performance art.
Nancy Groves,
The Guardian
Artistiquement, Caroline Bergvall redessine, elle, les contours de la langue. Elle la sculpte comme un matériau en mouvement.
Cecile Dalla Torre,
Courrier de Geneve
In 2018 we performed at two extraordinary sites: on the northermost coast of the Scottish Isles and in the harbour of France's largest Southern city. Ragadawn 57°5 ': Gaelic College, Isle of Skye: 25 August, 5:14am. Production partners: Atlas Arts/ Isle of Skye. Photos, performance and collective breakfast: Sophie Gerrard. Ragadawn 43°2' : Mucem, Marseille: 5-6 October, 6.30 am. Venue partners: Actoral festival. Performing between the medieval fortress and the contemporary museum. Photo during perf. Marc Antoine Serra. After the performance/packing-up: team members. So far last performance, 9 March 2019, Western coast of Ireland, Galway 53°2', a terrible storm forced us inside for the first time, large windows see the fierce dawn in, 2 days before European pandemic lockdown. Partners: Galway City of Culture 2019.

Since 2016, the live electronic dawn chorus of languages has been taken care of by various wonderful musicians : Ben Corrigan, Verity Susman, Rebbecca Horrox. The evening version 2021, will be installed by Jamie Hamilton. More soon.
Photos
Gaelic College, Isle of Skye
Mucem, Marseille
The change from dark to dusk to light, the transformation of shadows into outlines into shapes, all this brings about a complex range of experience explores both the celebratory and wondrous rise of day but also the hidden anxieties and rising sorrow it can provoke. Ragadawn tunes in to the ambiguity present with the rising of day.
The texts written and performed by Caroline Bergvall function as physical and rhythmic connective elements. Spoken lines are created as repetition patterns and vocalised breath rhythms. Working with composer Gavin Bryars and his long-standing interest in early european languages and medieval vocal forms has ensured that the song sequences also provide a luminous cross-historical vocal strand sung by Peyee Chen.
2016
Tilbury Estuary
Red Cross Museum, Geneva
Ragadawn travels sonically, linguistically, geographically and transhistorically.  Along the latitudes to follow the lengthening sunrise. And symbolically to activate the histories and movements of ancient lyrical poetry: a reminder of the rich and diverse influence of Middle Eastern song and poetry on the development of lyric poetry in Southern European territories through to far northern Gaelic and Nordic territories.
At the heart of Ragadawn is  the process of revitalizing connections between poetic forms as well as minority or migratory languages active in Europe. Anciently rooted languages, as well those present through more recent settlements.
Pre-recorded interviews with bilingual poets, language artists and speakers across Europe are integrated into the performance as its rich and interconnected dawn chorus of voices. They are developed into a chorus of polylinguistic voices.
2021 – This process is revisited for the project's  new night performance version.

2016-2019:
Punjabi – Southend | Romanche  – Geneva | Berber – Paris | Farsi – Copenhagen | Andalus-Arabic – Library Research | Medieval Hebrew – Library | Galician – Santiago de Compostela | Arabic (North Africa) – Paris | Ladino – London | Provençal – Aix en Provence | Occitan – Toulouse | Sicilian – London | Anglo-Saxon – London | Welsh – Liverpool | Scottish Gaelic – Skye | Icelandic – Manchester  | Groendlandic – Copenhagen | Nightingale – Stodmarsh | Irish – London |
1

. 46

°

2′ N

Geneva

9 & 10 Sept 2016
2

. 56

°

4′ N

Tilbury Docks

23 Sept 2016
3. 57°5′ N
 Isle of Skye
25 August 2018
4. 43°2′ N
Marseilles
5 & 6 October 2018
1. 46

°

2′ N

Geneva

9 & 10 Sept 2016
2. 56

°

4′ N

Tilbury Docks

23 Sept 2016
3. 57°5′ N
Isle of Skye, Atlas Arts
25 August 2018
4. 43°2′ N
Actoral/MUCEM
Marseille
5 & 6 October 2018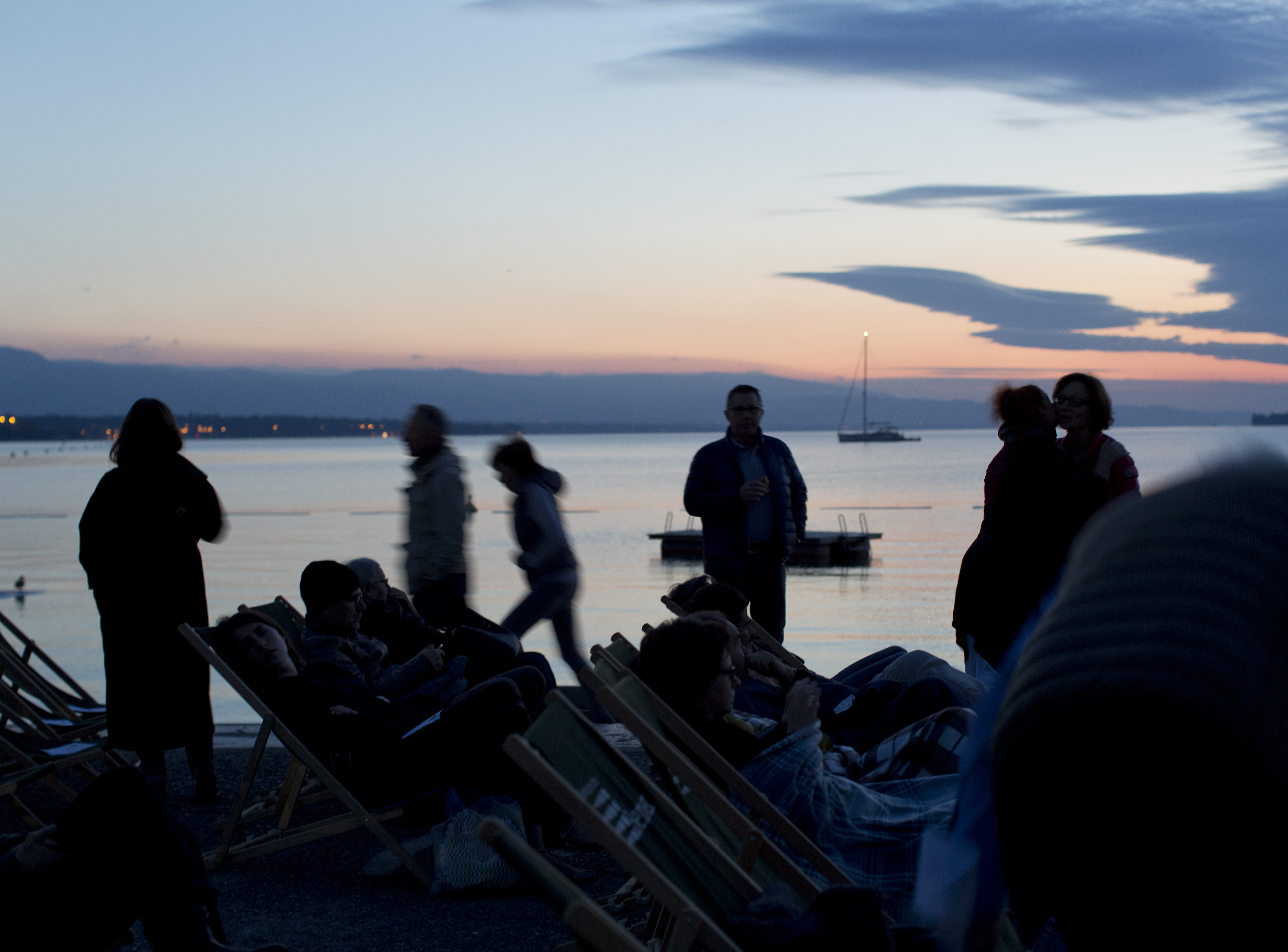 A first version of the piece was initiated in June 2015 as a commission from the MAMCO museum, Geneva. Also performed at SALT festival, Bodø, Northern Norway.
In 2016, the work was expanded. Gavin Bryars joined the project; language recordings began. It premiered as Ragadawn in Geneva & Southend, Sept 2016.
These early versions (2015/16) were devised and produced with Artistic Collaborator, Swiss dramaturg Michèle Pralong. UK support (2016) from Michelle Hirshhorn-Smith, Dea Vanagan & Emma Wilcox.
2018
Partners:
Atlas Arts (Isle of Skye), Actoral (Marseille), MUCEM (Marseille), King's College London
Project manager UK:
Christina Millare
Fundraiser UK:
Alice Boff
Research and Project Assistant:
Harriet Cook

Production Contact France:
Anne Becker
Photo credits:
Christian Lutz (2015), Thierry Bal, Emma Wilcox (2016), Sophie Gerrard (2018), Marc Antoine Serra (2018)
Video credits:
Andy Delaney, Patrick Baumgarter (2016) , Daniel Warren (2018)
Main Funding 2016-2018:
Metal (UK); Arts Council England; Festival de la Batie, (Geneva); Royal Norwegian Embassy, London; Ville de Geneve (CH); Atlas Arts (UK); Actoral (France)
Additional Thanks:
The Language Station hosts and their selected participants who have helped assemble the languages of the Dawn Chorus: Elisabeth Friis, Alba Cid, Nathan Jones, Aurelia Lassaque, Anne Becker, Uljana Wolf
Medievalist scholars: Prof. Clare Lees (Anglo-Saxon), Dr. Joshua Davies (Anglo-Saxon), Dr. Anna Bernard (Medieval Hebrew), Harriet Cook (overall research support)
Counterpoints Arts, London
David Scrufari, Lausanne, for continued permission to use his "astronomical" sound research
Nobody can tell how the long the pause for breath – hope and thought – will last
Paul Celan
A Sonic Atlas Project